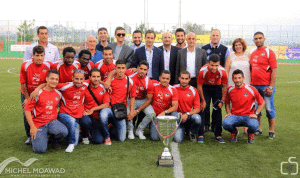 Head of the Independence Movement Michel Moawad paid a congratulatory visit to officials of the Salam Zgharta football club after the team won the Lebanese cup.
Moawad was greeted by the club's president priest Estephan Franjieh, who informed the head of the Independence Movement of the latest improvement in the team's logistics and human resources.
Franjieh said the club's success was a joyful occasion that saw all factions in Zgharta rally behind the team.
"Zgharta in general and the club particularly will have to face an important trial next season when the club participates in the Asian Federation cup, which requires all groups to join efforts to support the team so it lives up to expectations," Franjieh said.
After his meeting with Franjieh and members of the Salam Zgharta's administrative staff and players, Moawad signed the club's guest book and praised the team for its big achievement.
"It is not unusual for Zgharta to produce heroes," Moawad wrote.