CV Michel Rene Moawad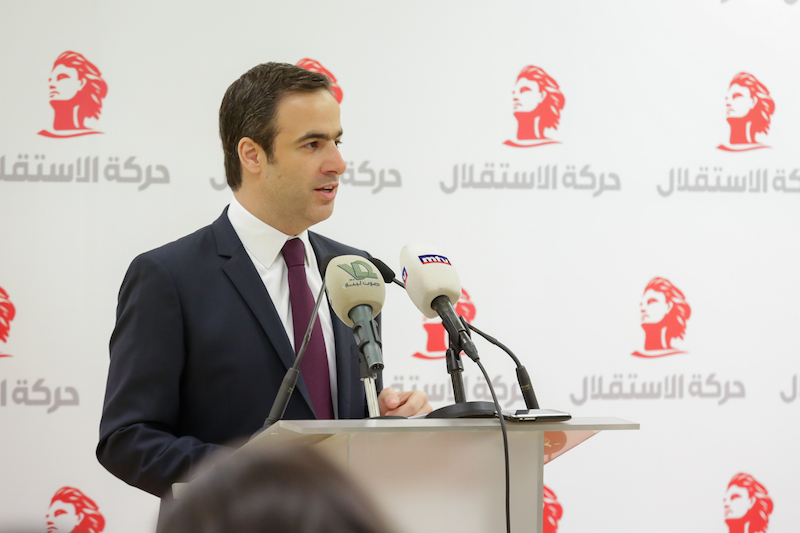 Summary:

Michel Moawad is a resigned member of the Lebanese Parliament, founder and president of the Independence , member of the March 14 Coalition leadership, active participant of the 2005 Cedar Revolution as well as key precursor movements, and son of former Lebanese President René Moawad, assassinated on the November 22nd 1989. Founding member and executive director of the René Moawad Foundation, and member of the Maronite Foundation in the World. Civic involvement further includes supporting employment and entrepreneurship in via initiatives such as FORAS: Fostering Entrepreneurship and Employment in North Lebanon and BIAT (Business Incubation Association in Tripoli), as well as several social initiatives to protect and ameliorate the conditions of underprivileged populations in Lebanon.
Political Involvement:
Independence Movement
2005 – Present
Founder and President
The Independence Movement began as a grassroots initiative as part of the Cedar Revolution, before it evolved into a structured political organization that aims to defend Lebanese sovereignty, independence, democracy, state institutions, and liberties.
The movement equally advocates human and economic sustainable development, modernization of state institutions, reinforcement of governmental transparency and accountability, as well as civic engagement and participation in public life.
Path towards to the Cedar Revolution
Kornet Chehwan Gathering
Founding Member
2001 – 2005
The primary opposition force to Syrian hegemony in Lebanon affiliated with the Maronite Church, advocating Syrian withdrawal, full Lebanese independence and sovereignty, as well as the implementation of the Taif Accord of 1989.
The group gathered key Christian figures, including Minister Pierre Gemayel, and Members of Parliament Gebran Tueni and Antoine Ghanem, all of which were assassinated for their political opposition.
Bristol Gathering
Founding Member
2004 – 2005
The largest multi-sectarian opposition bloc in the history of Lebanon at the time, formed following the illegal extension of former President Emile Lahoud's term imposed by the Syrian regime. Key founding political groups included the Kornet Chehwan Gathering, the Free Patriotic Movement, the Progressive Socialist Party, and the Future Movement.
March 14 Coalition
Member of the leadership
2005 – Present
The political structure that formed as a result of the Cedar Revolution, which saw the withdrawal of Syrian forces from Lebanon in 2005 and the formation of the UN Special Tribunal for Lebanon to investigate the high profile political assassinations of that time, including that of former Prime Minister Rafiq Hariri which catalyzed the mass popular uprisings of the Cedar Revolution.
Participated in the Doha Conference of May 2008, that came as a result of the May 7 events that saw Hezbollah militarily invade the capital and parts of the Chouf area. The conference produced the Doha Accord to end an 18-month long political crisis.
Civic Involvement:
Baladi, Baldaty, Baladiyati
1997 – 1998 Campaign
Led the campaign calling for municipal elections that had been suspended in Lebanon since 1964. A circulated petition gathered hundreds of thousands of signatures, in conjunction with events held across the country. The campaign succeeded in pressuring for local elections, held for the first time in 35 years in June 1998.
Rene Moawad Foundation
Founder and Executive Director
1990 – Present
A non-profit and non-governmental organization that transcends regional, confessional, and political boundaries to promote social, economic, and rural development in Lebanon, advocating a society built on democratic values, social justice, and national unity. The foundation is currently one of the most prominent NGOs in agricultural, social, and economic development, including education, health care, and building individual and institutional capacities.
Rene Moawad Foundation – USA
Founder
1993 – Present
A Washington DC- based non-profit organization, formed under 501C3 legislation, financing Lebanese development, spearheaded by the Rene Moawad Foundation in Lebanon and a variety of other organizations. Annual fundraising initiatives gather high-profile members of the Lebanese diaspora and key American figures.
Maronite Foundation in the World
Member of the Board
2010 – Present
Founded by former Maronite Patriarch Nasrallah Boutros Sfeir, under the patronage of the church, to engage the Lebanese diaspora in order to preserve their Lebanese patrimony by reclaiming their Lebanese identity and citizenship.
FORAS: Fostering Entrepreneurship and Employment in North Lebanon
Founder and President
An association dedicated to enhancing and supporting Lebanese human resources, a central tenant of the country's economy, offering job seekers an interactive range of soft and professional capacity building and abilities strengthening programs, with the collaboration and participation of international and local academics, professionals, cultural centers, and training centers.
Business Incubation Association in Tripoli (BIAT)
A non-profit organization, launched by the Rene Moawad Foundation and the Chamber of Commerce of Tripoli, established with the assistance of the Integrated SME support program, a European Union funded project at the Lebanese Ministry of Economy and Trade. The center's mission is to identify, incubate, host, assist, and promote growth potential sectors in North Lebanon.
Personally launched several social initiatives to protect and ameliorate the conditions of marginalized populations, including:
– Low cost distribution of academic materials to students (1995 – Present)
– Supporting registration fees for students in public and semi-private schools (2000 – present)
– Restoring houses for underprivileged families in partnership with Habitat for Humanity
(2010 – Present)
Publications:
June 2013
Le Monde, Paris: "Syrie: l'inaction ou le choix du chaos"
June 1995
Memoire: "Mancur Olson's collective action theories applied to the Lebanese political system". Published by ESCP – EAP.
June 1994
Memoire: "Radical Islam in the 20th Century". Published by ESCP – EAP.
Education:
1995:
Sorbonne University (Paris II- ASSAS), Paris, France
Master's degree in Public Law
1995:
Ecole Superieure de Commerce de Paris (ESCP- EAP), Paris, France
Major in Public Management
Minor in Corporate Strategy
1992:
Ecole Saint Genevieve, Paris, France
French Schools of Management preparatory school
1990:
College Notre-Dame de Jamhour, Jamhour, Lebanon
French Baccalaureate with honors
Personal:
Born June 4th, 1972 in Beirut, Lebanon.
Son of former Lebanese President Rene Moawad, assassinated on the November 22nd 1989, 17 days after his election. He was the first Lebanese president elected following the Taif Accord of 1989 that ended the 15-year Lebanese civil war. His assassination was a detrimental blow to national reconciliation, Lebanese sovereignty, and ushered in a 15 year Syrian hegemony.
Nayla Moawad, his mother, is the former Minister of Social Affairs from 2005 until 2008, as well as Member of Parliament as of 1991. She is known for her opposition to Syrian hegemony as well as championing democratic values, civic liberties, woman empowerment, and human rights.
Married to Marielle Kosremelli in 2000, and father to four children:
Nayla, born February 27th 2002
Rene, born June 10th 2003
Yara, born January 22nd 2005
Malik, born August 2nd 2011
Interests:
Shark diving
Mountain trekking
ATV
Skiing
Football
Technology
Strategy games
Music
History books